by Sue Palmer
Is there anyone out there who doesn't remember making mixtures as a child – mud pies, petal perfume, spells and potions?  It's surely one of the most fundamental play activities and everyone I've ever met has fond memories of some kind of mixture-making.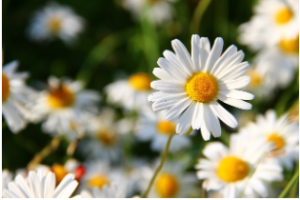 So I was fascinated when Cameron Sprague of the Stramash Outdoor Nurseries in Fort William, Oban, Tornagrain and Elgin, told me that his nursery children were using daisies to make ointment.
"You know how people say 'Oops-a-daisy!'"  he said. 'Well, that's because herbalists used to make a poultice from daisies to ease bruising when children fell over."
He'd learned this, and lots of other amazing facts, from Clare Holohan, a herbalist who runs West Highland Herbal and is co-author of Scotland's Wild Medicine. Stramash invited Clare to provide a training session for staff and parents to increase their understanding of the plants that grow on the nursery site throughout the year.  She visited them on May Day in 2021.
Place-Based Planning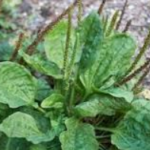 "As soon as we started walking round the site, she pointed out plantain – it grows everywhere – and told us that ointment from plantain oil is a natural remedy for stings and bites," said Cameron. "It was exactly the sort of thing we needed to know in order to develop our Place-Based Planning system. Children at Stramash are outdoors for most of the day and we really want them be in tune with natural cycles of plants, trees, weather and growing."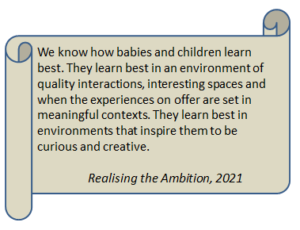 The long-term aim of Stramash's Place-Based Planning is to help staff, children and their families  deepen their connection with nature and the land, and their shared sense of ownership of the nursery site. As Cameron says, these plans fit really well with the aims of United Nations' Agenda for Sustainable Development and also with Realising the Ambition.
Since Clare's visit children have helped make medicines from daisies and plantain oil, and are currently soaking pine needles in alcohol to make an antiseptic spray.
Harvesting the land
Thanks to the 2022 May Day training session, they're also helping to plant and prune soft fruit bushes and fruit trees, with a view to growing, harvesting and eventually eating native Scottish produce.
"We invited Pete Holmes who runs Rural Skills Training and delivers courses through the University of the Highlands and Islands," Cameron explains. "He's an expert on plants that grow well in highland soil so we now have polytunnels where staff and parents are helping children grow all sorts of fruit and vegetables.
"We're also aware of many more local wild plants and how we can use them for food and other purposes.  So as well as making soup from our home-grown vegetables and plants foraged from the forest, we can create our own charcoal for mark-making activities.
"Thanks to John Hancox of Scottish Heritage Fruit Tress we've also planted ten varieties of Scottish apple trees!  He talked to us about the care of fruit trees and pointed out that it works really well with the school year – planting, pruning and harvesting all happen in term time."
The most traditional nursery in the world
For this year's training, by Lorna Shields and Clare McNichols of It's In The Bag Storytelling, gave staff and parents tips for storytelling sessions, using stories that relate to the place, wildlife and natural environment their children inhabit. From now on they'll be sitting round the fire pit and sharing these new skills with the children, re-enacting a scene that's probably as old as the species.
"I used to talk to parents about the difference between an outdoor nursery and a traditional nursery environment," says Cameron. "But I suddenly realised that what we're doing here is the most traditional nursery environment in the world!  It's how children have 'learned through play', while interacting with the adults around them, since time immemorial.  It's a privilege to be part of it all."